Thinking about enhancing the way your teeth look? A smile makeover can be anything you want it to be. From affordable teeth whitening treatments you do at home to dazzling porcelain veneers, there's an option for every person and budget.
Why Get a Smile Makeover?
Investing in cosmetic dentistry is something that everyone does for different reasons. Some of the situations our North Miami Beach cosmetic dentists see are cases that involve:
Getting back into the dating scene for the first time in years.
Applying for a new job and you want to make the best impression.
Planning for your dream wedding.
Following past trauma or neglect, with multiple missing or broken teeth.
Congenital defects, such as misshaped or atypical teeth.
Feeling self-conscious about how your smile looks, making you too embarrassed to laugh or show your teeth in photos or social settings.
As you can see for yourself, smile makeovers can be about putting your best face first or just feeling confident. There's no right or wrong answer as to why you should get cosmetic dentistry in North Miami Beach.

What's Involved?
Before any type of smile makeover, our cosmetic dentist will walk through a consultation and exam to get to the bottom of exactly what you're looking for. We'll talk about things such as what you like about your current smile, specific changes you want to make, and any particular procedures you do or do not want.
From there, we'll present the best options available to meet those concerns. In most cases, it's a combination of various different types of cosmetic or restorative dentistry procedures to achieve one overall "look" across your smile.
Next, we'll draft a care plan that outlines the specific treatments, costs, and timelines involved. You'll know exactly what you can expect, so there aren't any surprises to catch you off guard. We can even review different financing options, so that you can get started on your treatment right away.
Types of Cosmetic Dentistry
Some types of dental treatments are specifically aesthetic in nature, meaning that they're used for cosmetic purposes and not health-related ones. At other times, we'll incorporate cosmetic techniques into restorative treatments, for results that treat dental infections but also improve the look of the tooth.
You can generally expect to choose from a variety of cosmetic and restorative procedures, such as:
Teeth Whitening
— We typically recommend beginning every smile makeover with a professional teeth whitening treatment. When your teeth are naturally brighter, it helps them to look healthier and more appealing; plus, we can match any new restorations to the lighter color of your smile.
Dental Veneers
— Are you ready to go big or go home when it comes to your smile makeover? Then
porcelain dental veneers
are your best aesthetic solution. Veneers are custom shaped and shaded, then bonded to the front of the teeth that show when you smile. Most people need anywhere from 6-10 veneers on average. When your two-visit process is completed, you'll have an instantly new smile reflecting back at you in the mirror.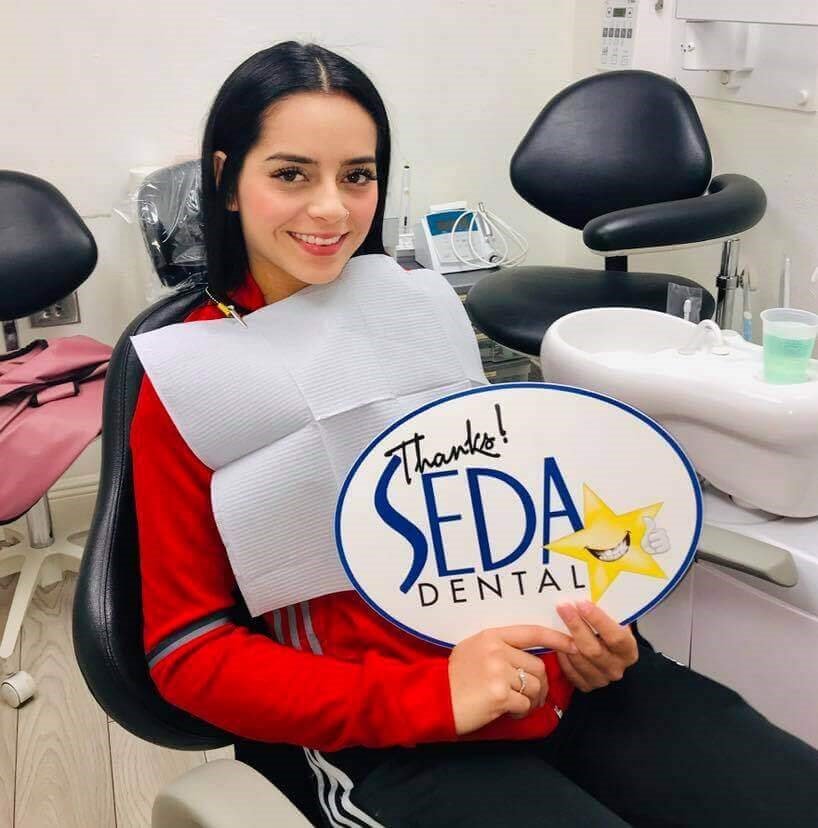 Dental Bonding
— Our cosmetic dentist in North Miami Beach can hand shape composite over specific areas to help your tooth look whole again. Bonding is ideal for small gaps between teeth or chipped tooth surfaces. The procedure is relatively quick and pain-free, giving you fast and simple results on the same day. It's amazing what covering one small flaw can do for your entire smile!
Tooth or Gum Recontouring
— Adjusting uneven enamel or irregular gum contours can give your smile a more even, healthier look overall. Contouring is fairly straightforward and may not even require local anesthetic, depending on the severity of your case.
White Fillings — Composite fillings aren't just more aesthetically pleasing, they're also healthier for your teeth. White restorations bond naturally to your enamel, making them less invasive (so that we can preserve as much healthy tooth structure as possible.) Plus, they blend in with the tooth since composite comes in a number of different shades.
Ceramic Dental Crowns
— Durable dental ceramics and porcelains make it possible to repair broken down teeth without detracting from their appearance. Your new crown will cover the tooth underneath, so that you can smile and eat without worrying about anything. Plus, the material is custom matched so that your restoration blends in with the teeth around it.
Dental Implants
— Missing teeth can pose a significant cosmetic disadvantage, not to mention functional one. Our network includes dental implant experts to provide efficient and successful implant therapy whether it's for one missing tooth or an All-on-Four case.
Get a Custom Consultation Today
Are you ready to take the first steps toward a beautiful new smile?
Schedule a free consultation
with the cosmetic dentists in North Miami Beach at SEDA Dental to get started. New patients are always welcome!